History and theory is important to my intellectual and artistic practice. I love history in all its multiple forms and contexts. Over the years, I have had the opportunity to work and study with arguably some of the most preeminent historians and critical theorists of our time. I am grateful for their hard work and passionate voices.
Included below is an example of a project that came about out of my interests in nature/culture, landscape, gardens, and place. Rambles in the Parks: Olmsted's Distant Effects in the Pacific Northwest is an ongoing project began in 2011. I lectured on this project at the University of Oregon as part of the Society of Photographic Education conference Crossing the Divide in November, 2012. I have included a project overview, photographs, lecture excerpt, and a bibliography.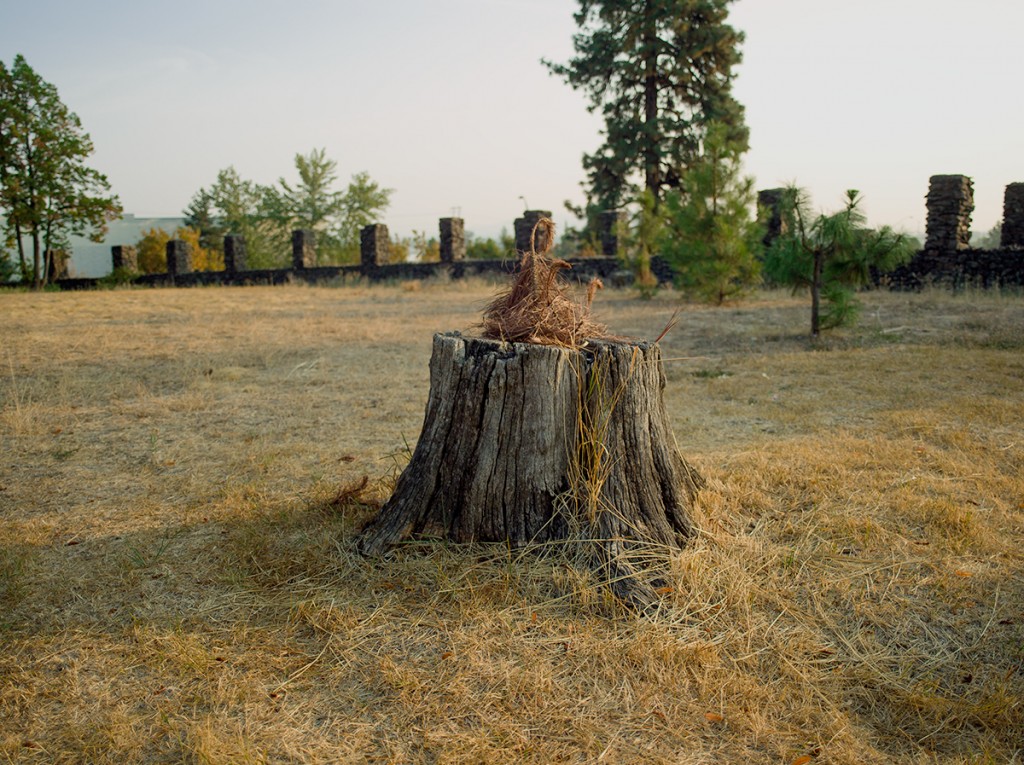 Rambles in the Parks: Olmsted's Distant Effects in the Pacific Northwest is a multi-disciplinary, lens-based research project. The photographs focus on the Olmsted brothers' substantial opus of parks, institutions, and residential spaces throughout Oregon, Washington and Idaho. My emphasis is on the parks and their overall designs, plants, habitats, edges, waterways, architecture and topiary. Rambles in the Parks examines seasonal changes and their effects on the parks, both in terms of quality of light and how the seasons change our perceptions of space and place. In addition, I employ historical research that includes a re-photographic component: juxtaposing historical images and maps, for example, with my contemporary photographs.
Part 1: Historical Context
During the later half of the nineteenth century, American cities underwent tremendous changes. Cities rapidly urbanized as new immigrants and rural Americans migrated to cities for opportunity. In many respects, these new cities were poorly designed and dirty by contemporary standards. Reprieve from the rapid industrialization, poverty, and overcrowding was relatively unknown in early American cities. Politicians, industrialists, and city governments, among others, eventually recognized the need to introduce a more diverse, and robust form of planning into the urban environment.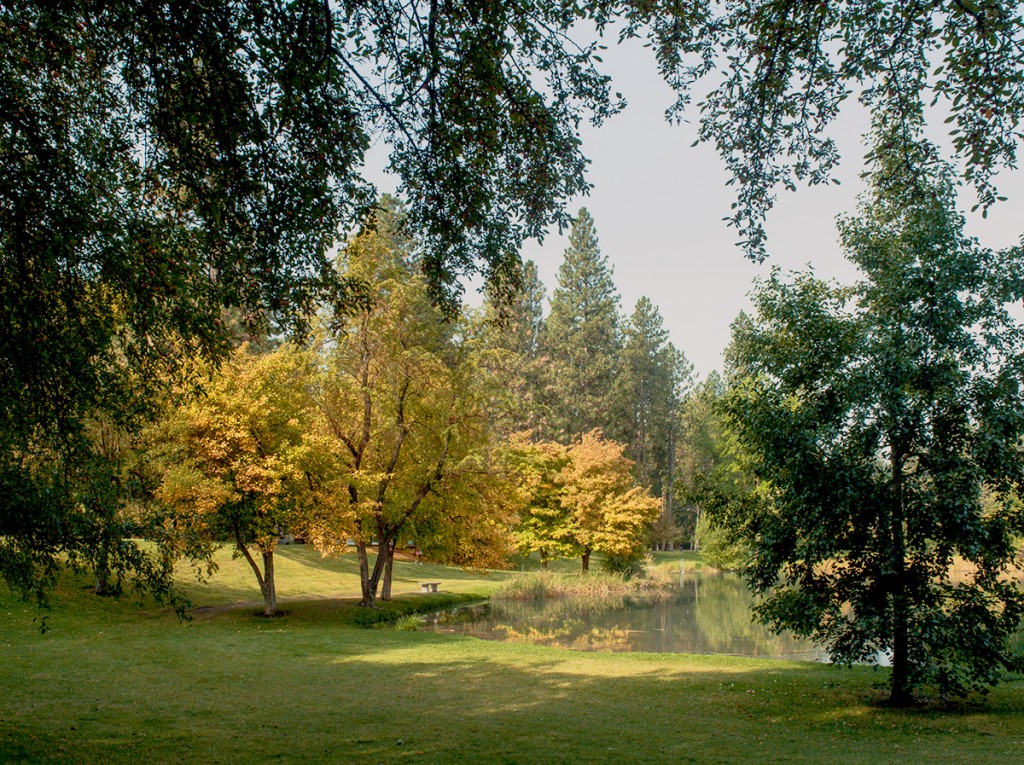 Landscape architecture as we know it today, did not exist in early 19th Century America. While Europe had a tradition of landscape gardening and garden design for royal properties, government, and religious complexes, the concept of landscape architecture did not exist. Gilbert Laing Meason first coined the term landscape architecture, in 1828. Frederick Law Olmsted was the first to use the term as a professional title in 1863. Landscape Architecture developed out of American cities need for urban planning, coupled with landscape gardening, which gave landscape architecture its unique focus.
Frederick Law Olmsted (1822-1903) was a noted journalist and public administrator, including serving as the Executive Secretary for the US Sanitary Commission (a precursor to the Red Cross) during the civil war. Today, he is recognized as the founder of American landscape architecture. Olmsted is also recognized as the foremost parks designer in America. During the 20th century, Olmsted's sons and successors continued Olmsted's legacy through continued design, ideas, philosophy, and influence. The Olmsted Brothers firm, located in Boston, Massachusetts, lasted until 1980.
Frederick Law Olmsted is perhaps most well known for his work on New York City's Central Park and Brooklyn's Prospect Park. Both of these projects were done in collaboration with Colvert Vaux. Frederick Law Olmsted went on to design numerous urban parks, academic campuses, and private residences. These projects ranged far and wide and included such exemplary examples as the 1893 Worlds Fair in Chicago, Stanford University, and the United States Capital Grounds. Eventually, Olmsted Sr. passed his legacy onto his sons, and the firm became known as the Olmsted Brothers.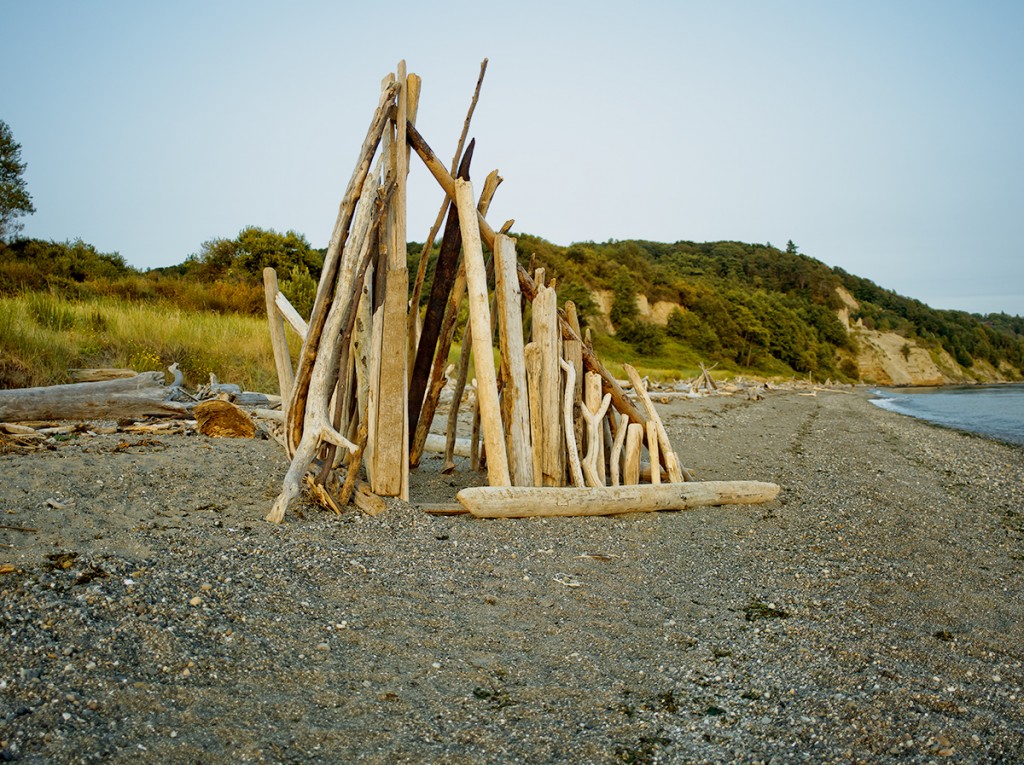 In 1903, The Seattle Board of Park Commissioners recommended that the city hire the Olmsted Brothers to do a survey of the city, and to formulate a comprehensive plan to guide Seattle towards future work. The City of Portland, Oregon, also hired the Olmsted Firm in 1903 to develop a comprehensive plan for the City of Roses. The Olmsted Brothers plan for Seattle's parks was the basis of the modern day park system that now exists in Seattle.
The Olmsted Brothers continued to work in the Pacific Northwest over the next 30 years, contributing to numerous projects throughout the Pacific Northwest. They designed and formulated plans for cities, parks, institution, and private residences. A very partial list of cities and institutions that hired the Olmsted Brothers throughout the Pacific Northwest include Washington State Capital, City of Spokane, City of Seattle, City of Portland, The Moran Mansion and grounds on Orcas Island, Whitman College, University of Washington, Oregon State University, and the University of Idaho.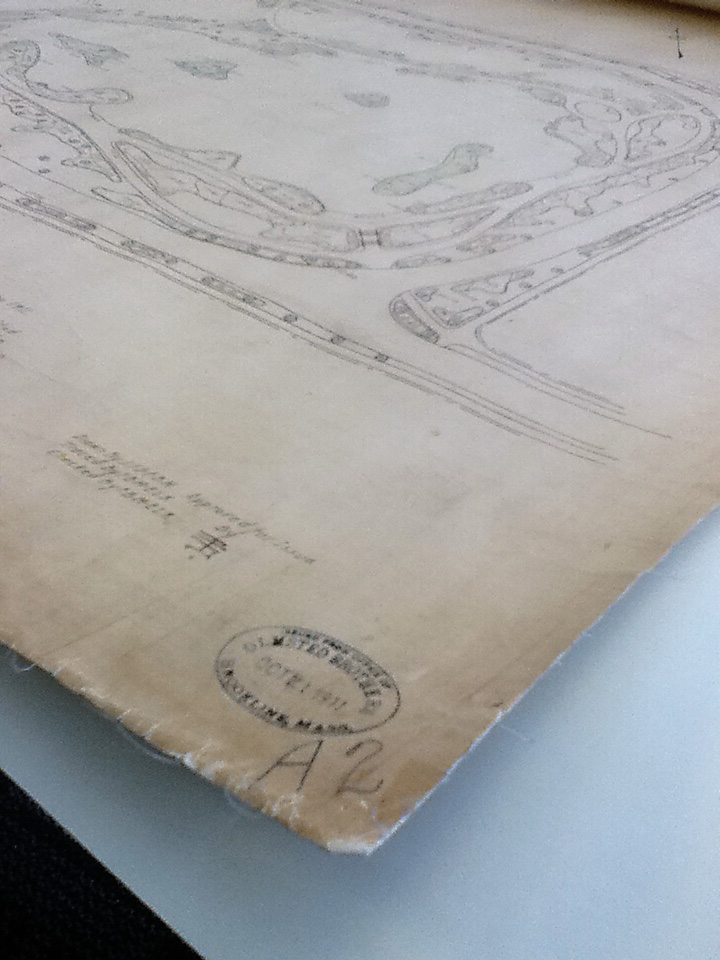 Bibliography
Beveridge, Charles. Frederick Law Olmsted: Designing the American Landscape, Rizolli, 1995.
DeLue, Rachel, Z., James Elkins, Landscape Theory (The Art Seminar), Routledge, 2007
Friedlander, Lee. Friedlander Photographs Frederick Law Olmsted Landscapes, D.A.P., 2008
Fryberger, Betsy. The Changing Garden, Four Centuries of European and American Art, University of California Press, 2003
Hockaday, Joan. Greenscapes; Olmsted's Pacific Northwest, WSU Press, 2009.
Klett, Mark. Third Views, Second Sights: A Re-photographic Survey of the American West, Museum of New Mexico Press, 2004.
Klett, Mark. Yosemite in Time: Ice Ages, Tree Clocks, Ghost Rivers, Trinity River Press, 2008.
Lambert, Phyllis, Ed.. Viewing Olmsted, Photographs by Burly, Friedlander,  & James, MIT, 1996
Meyerowitz, Joel. Legacy: The Preservation of Wilderness in NYC Parks, Aperture, 2009
Morley, Simon. The Sublime, Documents in Contemporary Art, MIT, 2010
Rybczynski, Witold. A Clearing in the Distance, Scribner, 1999/2003.
Solnit, Rebecca, Storming the Gates of Paradise: Landscape for Politics, University of California, 2008
Spellman, Catherine, Ed.. Re-Envisioning Landscape/Architecture. Actar (ASU), 2003
Seattle Parks and Recreation: http://www.ci.seattle.wa.us/parks/parkspaces/olmsted.htm
The Collaborative works of Mark Klett and Byron Wolfe: http://www.klettandwolfe.com/
National Association for Olmsted Parks:  http://www.olmsted.org/
Friends of Seattle's Olmsted Parks: http://www.seattle.gov/friendsofolmstedparks/
Pacific Northwest Garden History: http://www.halcyon.com/tmend/Olmsted.htm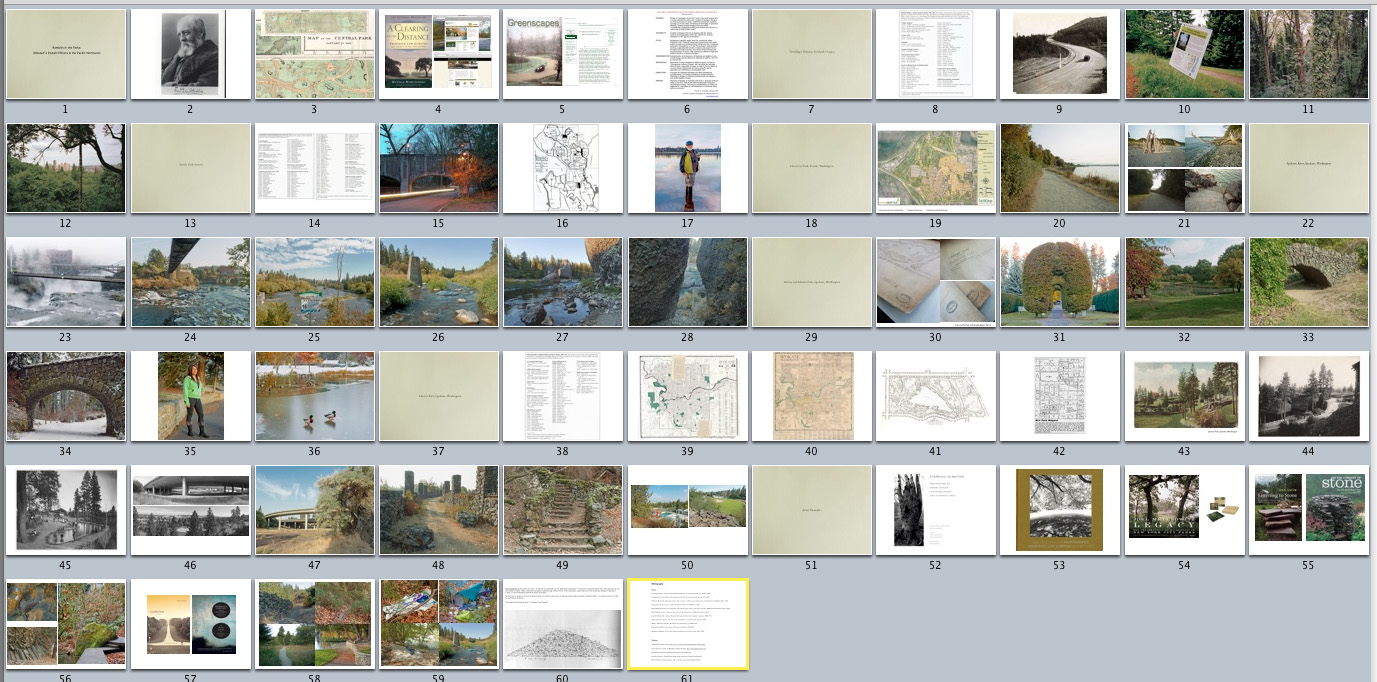 Above: A screen shot of the slide script created for a lecture at the University of Oregon. The script includes historical maps, books, diagrams, websites, personal photographs, historical photographs, others artist projects, and a bibliography. 
(UN) NATURAL HISTORIES
Included below are a few excerpts from a lecture I presented as part of an SPE regional conference in Denver, Colorado entitled the Educated Eye. The lecture stemmed from my own creative research and interest on dioramas.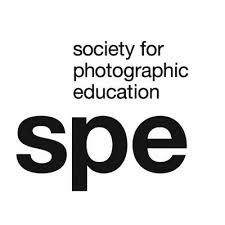 "In a cultural moment concerned with  natural and social environments, scientific methods, and virtual realities, the medium (diorama) provides an ideal means to consider real condition and speculate abut contemporary situations." –Toby kamps, Curator, Small World: Dioramas in Contemporary Art
Steven Allison-Bunnel, The University of Montana, Environmental  studies "Natural history museums are an ideal place to look at representations of wilderness because the have in fact, sheltered hybrids of art and science, popular culture, and technical elites, for over a century." One of the foremost goals of these hybrids has been explicitly to mold the shape of the wilderness in the American mind."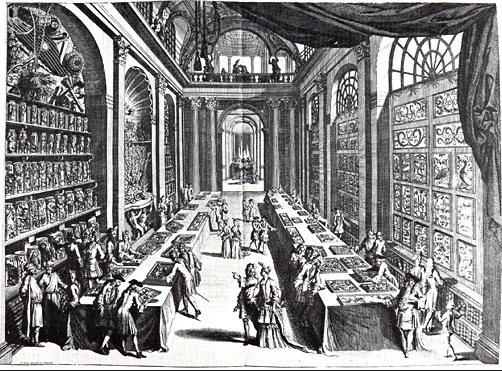 Cabinet of Curiosity / chamber of wonder, 1684-1756.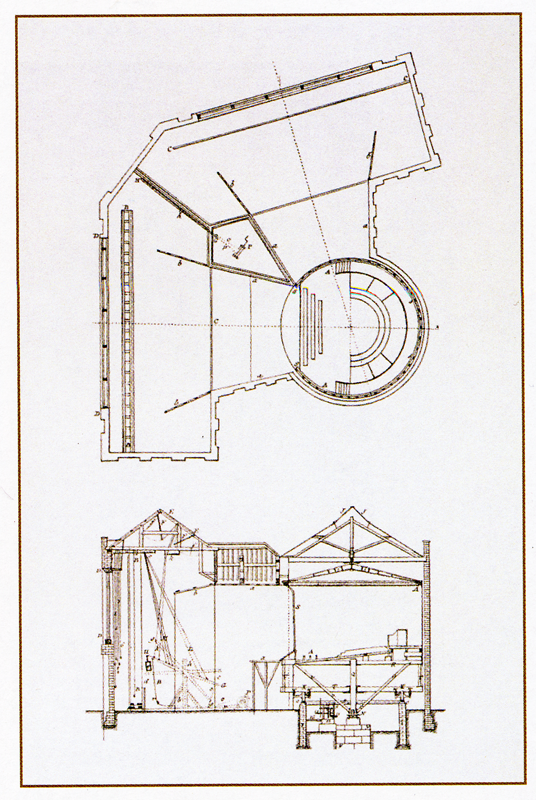 Daguerre Diagram, French stage designer/pioneering photographer L.J.M (Loiuse), Daguerre patten it in 1822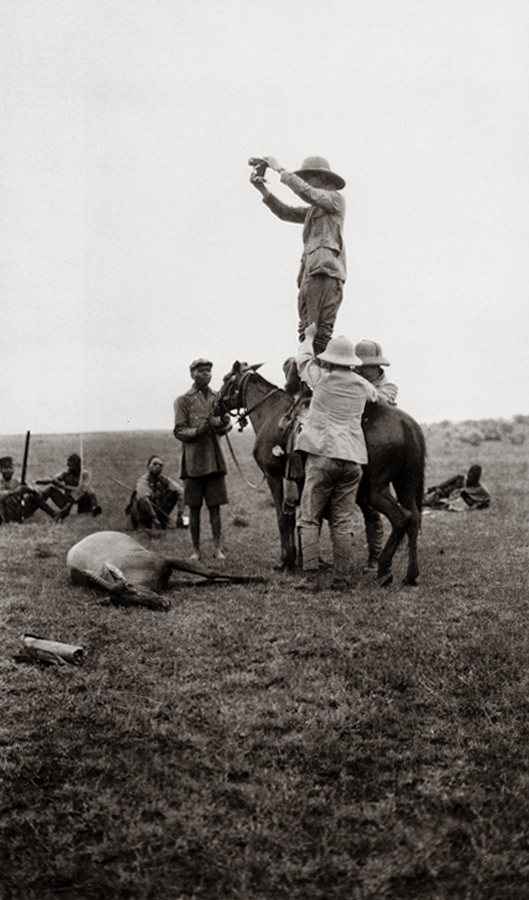 Image of Kermit Roosevelt, the Teddy Roosevelt  style/adventurer.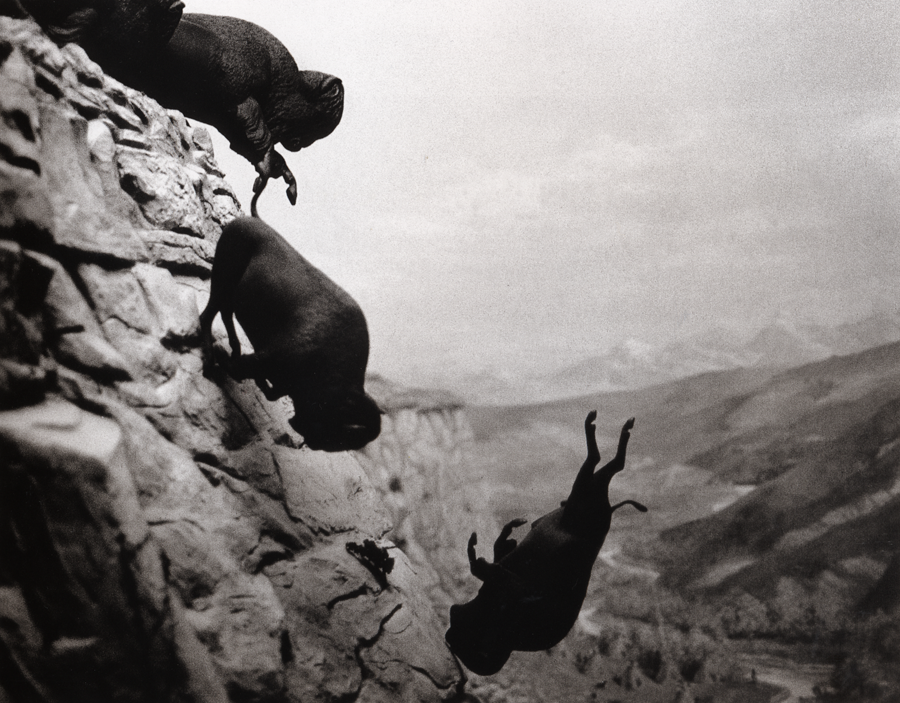 David Wojnarowicz, Untitled, Circa, 1989.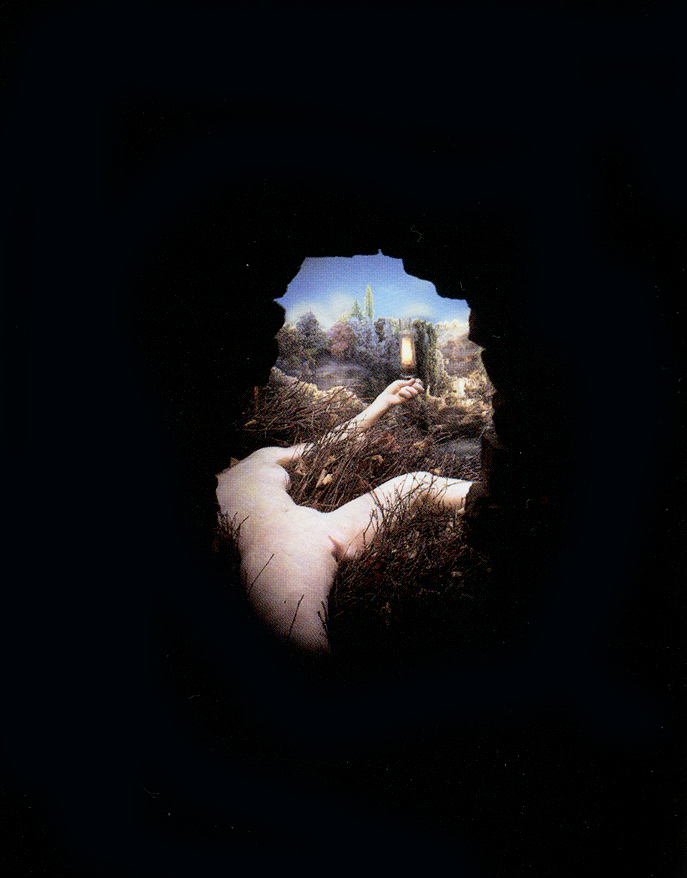 Marcel Duchamp- Etant Donnes-1946-1966, Mixed Media, Peep-hole, pastiche of various Mediums assembled to create a disconcerning realism-peeping tom. Reflective  of Kienholz-conflates "real" and "theatrical" element in a hybrid mélange. References Robert Smithson-Site/Nonsite series.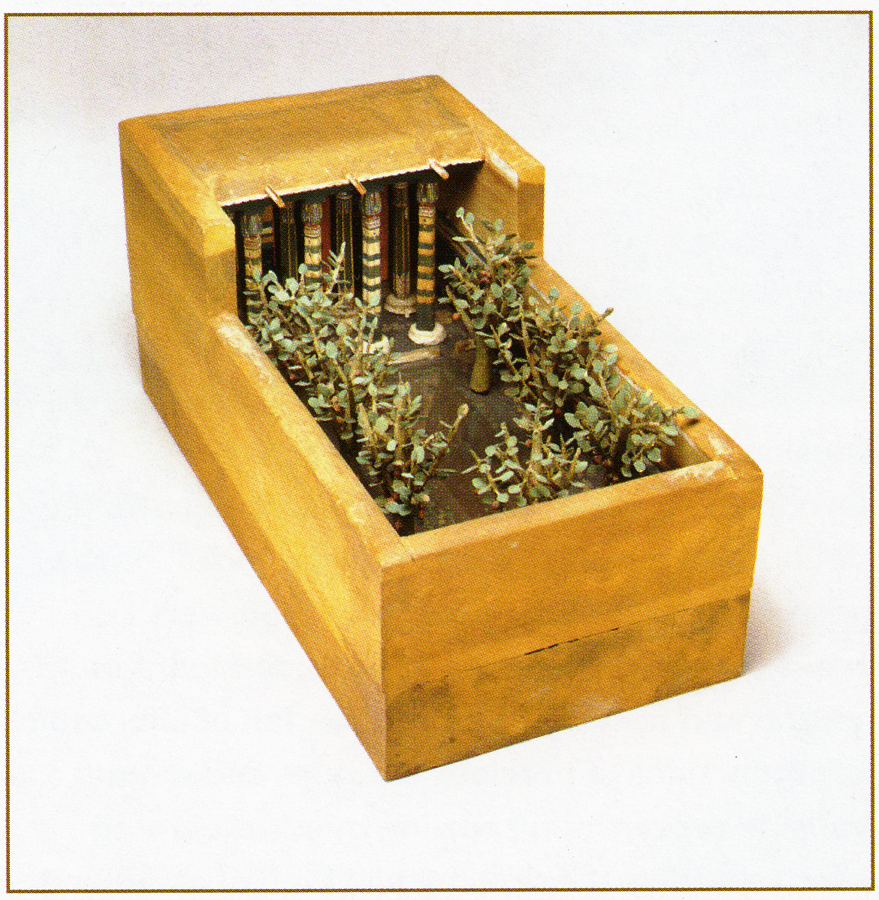 An example of the diorama impulse stems back to the diorama of a house and garden, Egyption Circa 2,300 BC (MET)
Ackerly, first habitat diorama. Karl Ackerly-Muskrat Group-1889-1890, Milwakee. First known habitat  diorama Ackerly-one of the most famous, was foremost a taxidermist. Carl Akeley in 1912-"the viewer may think for a moment that he/she Has stepped five thousand miles across the sea into Africa itself. German Sociologist Dolf Sternberger notes: "their goal was not Art or even beauty, but a new and different, a man-made nature."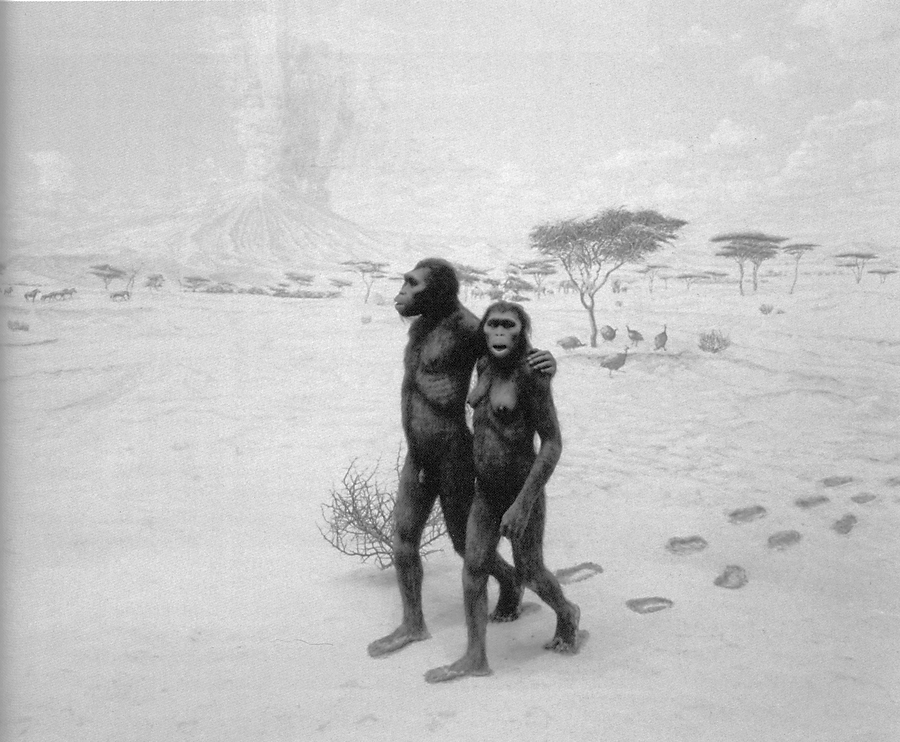 Hiroshi Sugimoto-The Origins of Love. "Dioramas" series. Origins of Love/ 7 different series, Wax museums, Theatre, Seascapes, Architecture, Pine trees, Sanjusangedno-Hall of 33 bays".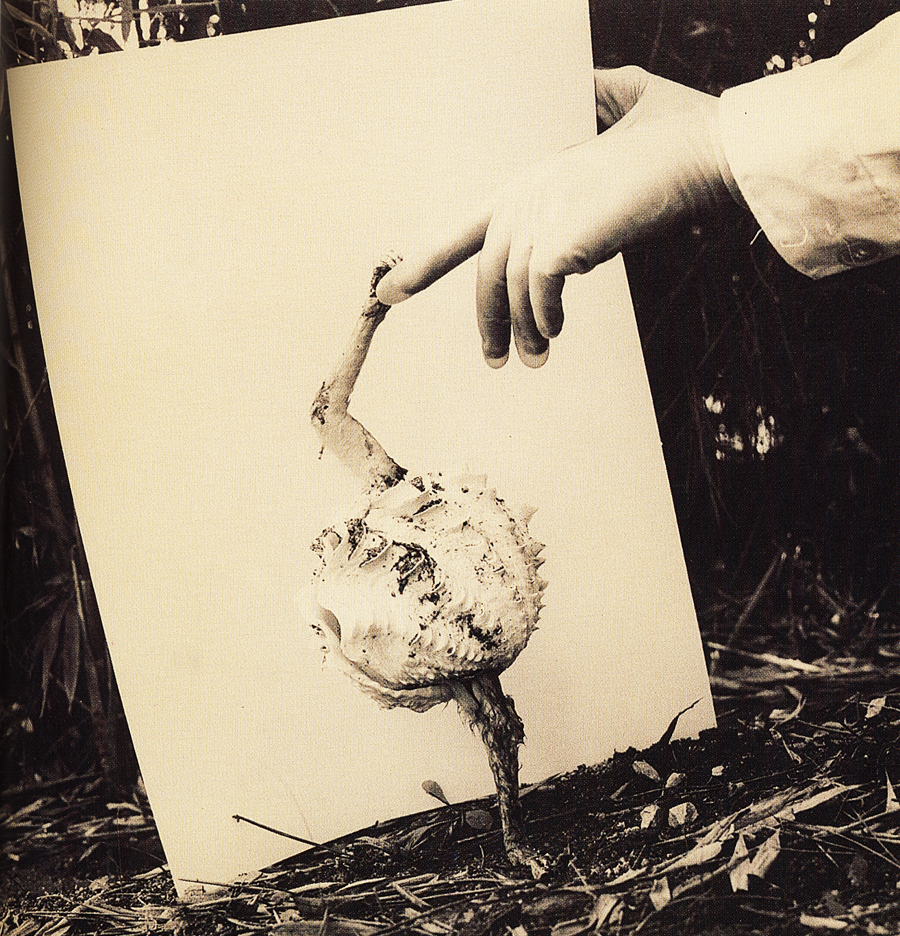 Juan Fontcuberto, Micostrium Vulgaris, "Fuana," Barcelona, 1985.
In BUBBLE WORLDS-Ralph Rugoff writes: "Dioramas originally conceived to preserve lost life-extinction. Now a sense of loss due to are diminishing belief in Modernism and the conception of objective reality"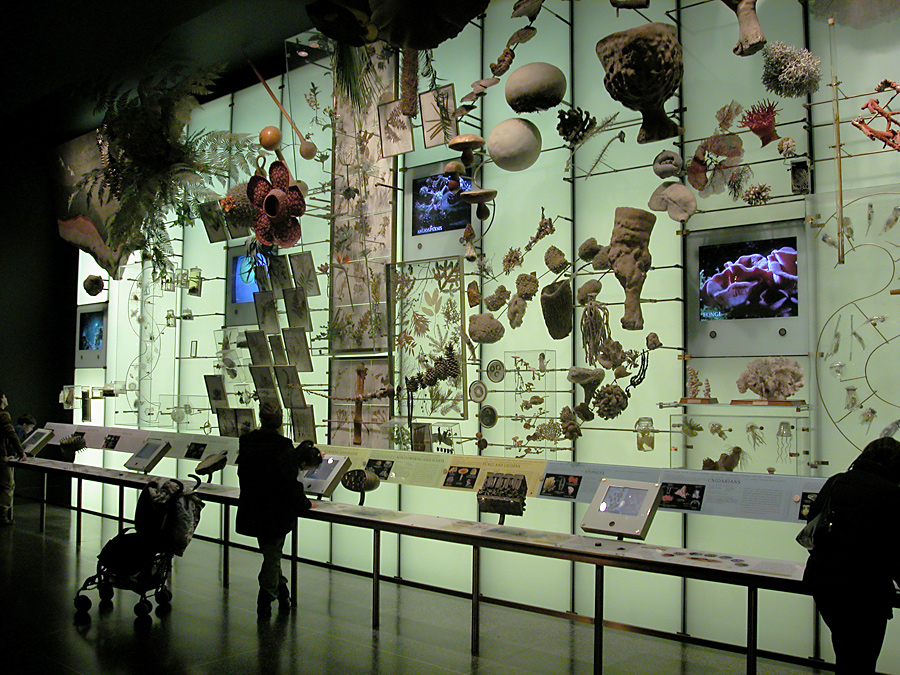 Image taken at the American Museum of Natural History, New York, NY.