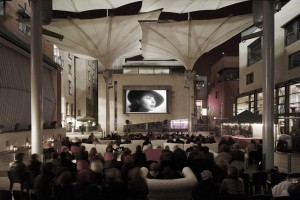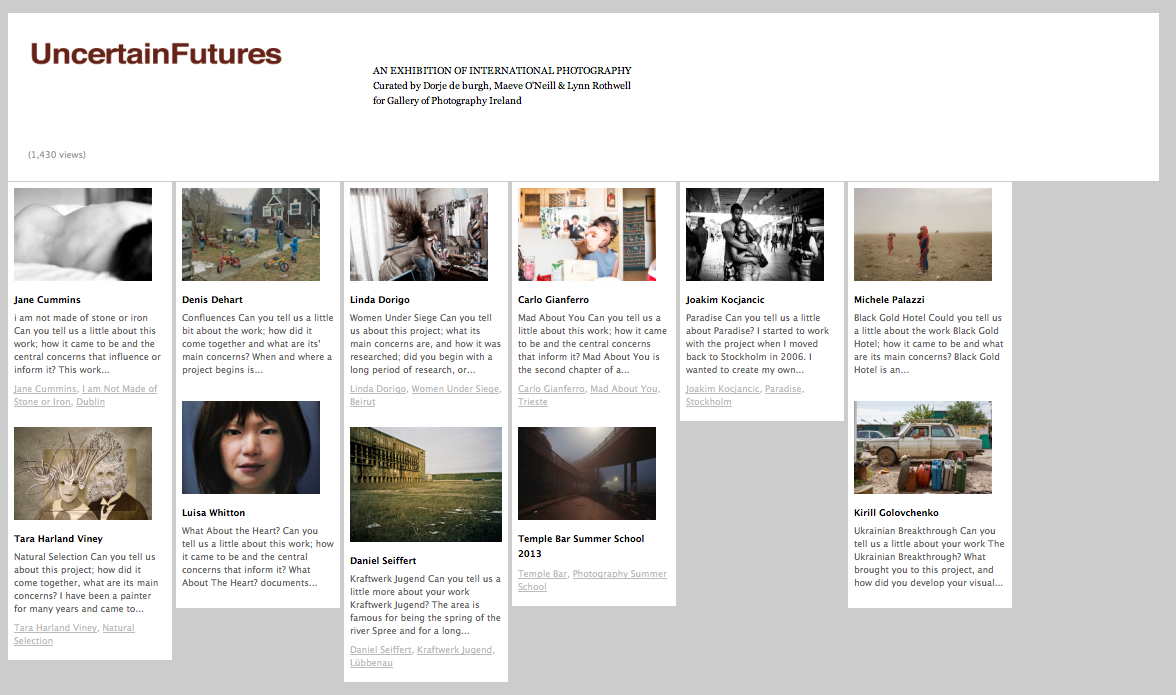 http://cargocollective.com/uncertainfutures
Gallery of Photography, Ireland's centre for contemporary photography
Dennis DeHart Interviewed by Maeve O'Neill
Can you tell us a little bit about the work; how did it come together and what are its' main concerns? 
When and where a project begins is an interesting concept in itself. With that, I was born and raised next to the Columbia River near Portland, Oregon, USA. The river, its multiple histories, peoples, and stories are issues I grew up around as a child. It was not until after a 20 plus-year hiatus from the region, that I became consciously engaged through photography. My main concern is in expressing how interconnected everything is; that what we do in our own back yard, has a broader affect on the larger world we live in. The rivers are an apt metaphor, as it is a quantitative thing that illustrates the concept literally. For example, when salmon can no longer travel to their spawning grounds because of damning, it affects the entire ecology of the region in measurable ways.
Confluences is an interesting word; it means the point where bodies of water meet – and rivers and dams are crucial to this area – but it also means a flow between different things and the coming together of people. The ways in which different social histories fuse in the landscape are obviously important to you. Can you expand on this?
In engaging with landscapes with significant social histories, I am often struck by the presence in the absence. For example, this winter my two sons and I travelled to Doug Bar in Hell's Canyon between Oregon and Idaho. The site we visited was quite remote-some 40 miles from the nearest town. It was a place in which the United States Calvary drove the Nez Perce Native American's across the Snake River and out of their homeland. The layers of history imbued in sometimes seemingly banal spaces, emotionally move me.
Politicians in the US are hesitant to publicly accept the seriousness of climate change; how do you feel this impacts on the issue at a grass-roots level?

US politics have became increasingly polarized, much to the detriment of seemingly common sense solutions. On the grass-roots level, these solutions are often "radicalized", which can then be used to degrade common sense solutions to the point of ineffectiveness.
The American landscape – rural and urban – holds a symbolic / iconic quality… it's been channeled into the world via cinema and photography. Do you feel influenced by this?
Indeed, I do feel influenced by the "Myth of the West." Growing up in the Pacific Northwest of the US, it is nearly impossible not to have been influenced on some level by these narratives. I also went to Graduate school in New Mexico, where the faculty worked to both challenge and inspire us to consider these narratives in a critical and engaged manner. While I am critical in some respects of the concept of the "west", as an American, I also cannot help but to feel a certain inkling to these stories, problems and all.
And finally; given that digital and Internet technology have changed the medium forever, what do you see in store for photography?
Photography is a little bit like water these days; we depend on it, yet we take it for granted most of the time. I feel there will always be a desire to make art and tell stories, which photography is well suited to do.