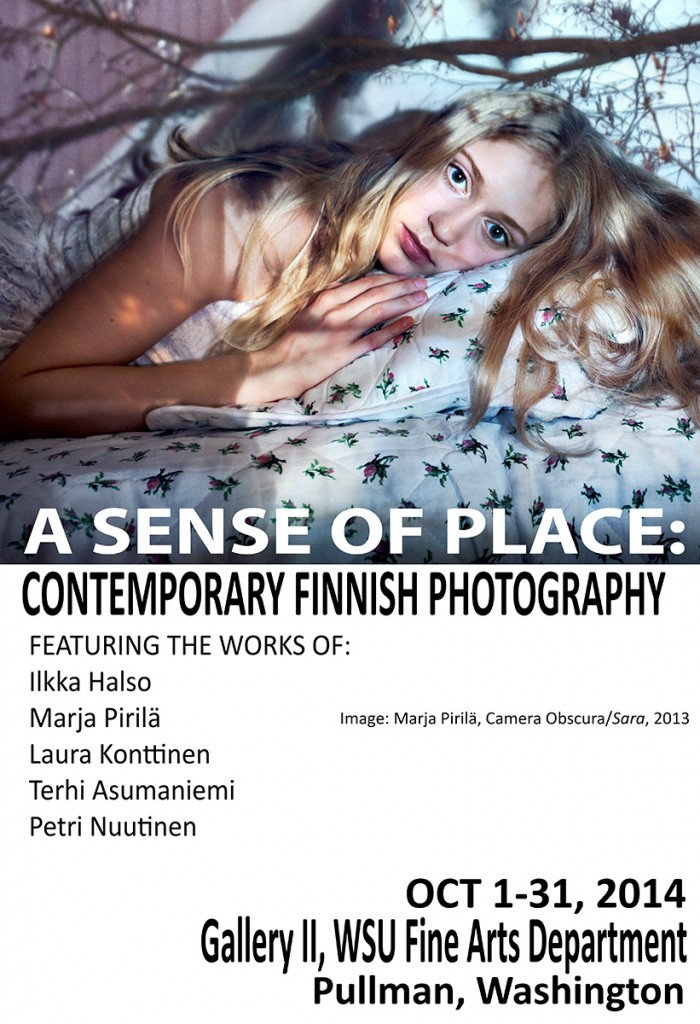 A Sense of Place: Contemporary Finnish Photography is a group-show of innovative, fine art photography examining the concept of place as both real and imagined. The impetus for the show came about while I was an artist in residence for the Backlight Photo Festival in 2013. While in Tampere, I was welcomed into the studios of several artists. The exhibition evolved out of our conversations, which continued via e-mail and social media upon my returning to the United States.
Initially, the exhibition was conceived with a focus on landscape. Over time, we found that landscape was too limited in our concept and that place was the focus.  The term sense of place has several meanings. On one hand, it connotes a specific environment, such as for example the physical geography of Finland. On the other hand, a sense of place is a feeling or perception held by people of that place.
As we become more globally placeless, a sense of place appears ever more urgent for the health of our planet and her people. Author Tony Hiss writes, "Conscious noticing of what were experiencing, once we get back the hang of it, can be a common denominator, a language of connectedness between social, environmental, and economic concerns. Using the things we know or sense about places but seldom put into words, we can bring all our minds to bear on the problems of how our communities, regions, and landscapes should change."
Drawing inspiration from Hiss' quote, my wish is that you will find a connectedness in each of these artists interpretation of place, and that we will take these experiences back into our own communities.
 -Dennis DeHart, September 2014